ABLE TO WORK ACT and ABLE FINANCIAL PLANNING ACT
We have great news! Thanks to advocacy efforts of MVDSA, NDSS, and countless other organizations and constituents, ABLE to Work Act along with the ABLE Financial Planning Act, which allows ABLE beneficiaries to roll over their regular 529 savings accounts to 529A (ABLE) accounts, passed through the U.S. Congress and was signed into law by President Trump on December 20, 2017.
These bills, respectively, were known as the ABLE to Work Act (S. 818/H.R. 1896)and the ABLE Financial Planning Act (S. 816/ H.R. 1897), and both bills garnered bipartisan support from members of Congress who were willing to listen and ready to act on improving the rights of individuals with Down syndrome and other disabilities.
For more information on ABLE to Work, please click the following link: ABLE to Work Q&A.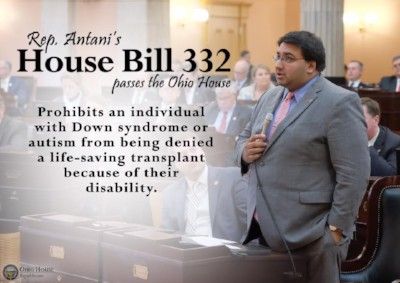 STATE INITIATIVES
Organ Transplant Waitlist Anti-Discrimination – House Bill 332
In 2017, House Bill 332 was introduced by State Representative Niraj Antani (R-Miamisburg) to ensure that individuals with disabilities will not be banned from an organ transplant wait list solely based on their disability. Click here to read the full press release.
On November 29, 2017, the House Health Committee unanimously voted in favor of this bill and in January 2018, the bill received a unanimous vote by the House of Representatives.
Click here to see more information about the bill's movement and language.
Down Syndrome Non-Discrimination Act (Senate Bill 164/House Bill 214)
 This MVDSA supportedn the proposal and passage of the Down Syndrome Pro-Information Law (H.B. 552), which requires healthcare providers to provide expectant and postpartum patients an unbiased, up-to-date fact sheet about Down syndrome along with the names of both local and national Down syndrome organizations through the Ohio Department of Health.  This law ensures that parents understand a diagnosis of Down syndrome and the resources that are available to them. This law passed unanimously in both the Ohio House of Representatives and the Ohio Senate, and Governor Kasich signed it into law on December 22, 2014.
WANT TO GET ENGAGED WITH GRASSROOTS ADVOCACY?
While you can always reach out to us directly for ways to get involved, there are also two different opportunities for grass-roots engagement at the national level!
Click HERE for details on the National Down Syndrome Society's DS-AMBASSADOR Program.
Click HERE for details on the National Down Syndrome Congress's National Down Syndrome Advocacy Coalition ("NDAC") opportunities.
Your voice matters. Your story matters. Your advocacy matters.