Every day is a perfect day to help others understand what Down syndrome is and how a person with Down syndrome has positively affected your life!  As an advocate for people with Down syndrome, consider some of the following ways to celebrate, raise awareness and foster acceptance and inclusion throughout the community.
We invite you to:
Become an active participant of the MVDSA community 

here

!—Many of our events are FREE for our community!  Are you looking to meet other families? Are you looking to learn? Check out our Calendar
Follow us on Facebook and share our posts! We'd love to post about your loved one(s) with Down syndrome too – make sure to share photos or videos and stories with us!
Download and share our 

Q&A About Down Syndrome

 flyer
Walk with over 2,000 participants in celebration of people with Down syndrome at the MVDSA Rally in the Valley each year (Learn more at www.ValleyRally.org)
Share the Preferred Language Guide with family, co-workers and friends
Celebrate World Down Syndrome Day (March 21) every year with the MVDSA. Near 3-21 each year we host a celebration and awareness event. Visit our calendar or events page for more info
Advocate for your loved one with Down syndrome during National Down Syndrome Awareness Month in October by telling everyone about your loved one(s) with Down syndrome!
Host a fundraising event. For ideas, approvals, and third party fundraising guidelines, contact the office at office @mvdsa.org or 937-576-0779. 
World Down Syndrome Day
World Down Syndrome Day is held annually on March 21 of each year to raise awareness, inclusion, and acceptance for the Down syndrome community. Down syndrome is one of the most common genetic conditions with approximately 1 in every 800 babies being born with Down syndrome. The date is special and represents how people with Down syndrome have 3 copies of the 21st chromosome.
To celebrate this special day, the Miami Valley Down Syndrome Association (MVDSA) hosts a free celebration for all persons with Down syndrome and their immediate family. 
National Down Syndrome Month
In 1984, October was declared National Down Syndrome Awareness Month by President Ronald Regan. The resolution notes that "public awareness and acceptance of the capabilities of children with Down syndrome can greatly facilitate their being mainstreamed in our society". The entirety of the original text of that resolution is available here.
Initiative Successes
ABLE TO WORK ACT AND ABLE FINANCIAL PLANNING ACT
We have great news! Thanks to advocacy efforts of MVDSA, NDSS, and countless other organizations and constituents, ABLE to Work Act along with the ABLE Financial Planning Act, which allows ABLE beneficiaries to roll over their regular 529 savings accounts to 529A (ABLE) accounts, passed through the U.S. Congress and was signed into law by President Trump on December 20, 2017.
These bills, respectively, were known as the ABLE to Work Act (S. 818/H.R. 1896)and the ABLE Financial Planning Act (S. 816/ H.R. 1897), and both bills garnered bipartisan support from members of Congress who were willing to listen and ready to act on improving the rights of individuals with Down syndrome and other disabilities.
For more information on ABLE to Work, please click the following link: ABLE to Work Q&A.
---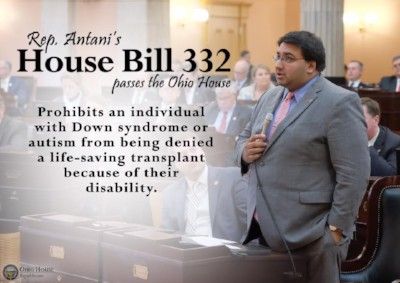 Organ Transplant Waitlist Anti-Discrimination – House Bill 332
House Bill 332 was introduced by former State Representative Niraj Antani (R-Miamisburg) to ensure that individuals with disabilities will not be banned from an organ transplant wait list solely based on their disability. Click here to read the full press release.
We are very excited to support this legislation as it moves through the Ohio House of Representatives! On November 29, 2017, the House Health Committee unanimously voted in favor of this bill and in January 2018, the bill received a unanimous vote by the House of Representatives. Mr. Antani now serves as state Senator.
---
Down Syndrome Non-Discrimination Act (Senate Bill 164/House Bill 214)
 This MVDSA supported the proposal and passage of the Down Syndrome Pro-Information Law (H.B. 552), which requires healthcare providers to provide expectant and postpartum patients an unbiased, up-to-date fact sheet about Down syndrome along with the names of both local and national Down syndrome organizations through the Ohio Department of Health.  This law ensures that parents understand a diagnosis of Down syndrome and the resources that are available to them. This law passed unanimously in both the Ohio House of Representatives and the Ohio Senate, and Governor Kasich signed it into law on December 22, 2014.
---