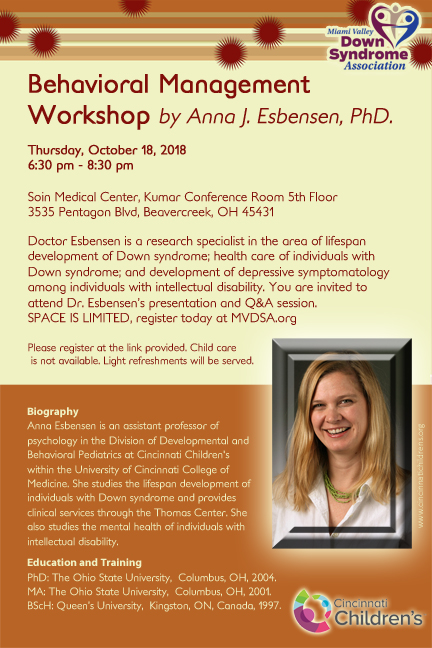 You are invited to a fun and educational workshop with Anna J. Esbensen, PhD. We will begin at 6:30 pm with an organizational update. Dr. Esbensen will be presenting her workshop on Behavioral Management at about 7:00 pm with a Q&A session to follow. We will be closing the workshop at 8:15 pm. This is a free event, but you must register. Please be sure to complete all the fields in your registration.
Anna Esbensen is an Assistant Professor of Psychology in the Division of Developmental and Behavioral Pediatrics at Cincinnati Children's within the University of Cincinnati College of Medicine. She studies lifespan development of individuals with Down syndrome; health care of individuals with Down syndrome; and the mental health of individuals with an intellectual disability. She provides clinical services through the Thomas Center.
Space is limited. Childcare will NOT be provided. Light refreshments will be available.