Round Up For Down Syndrome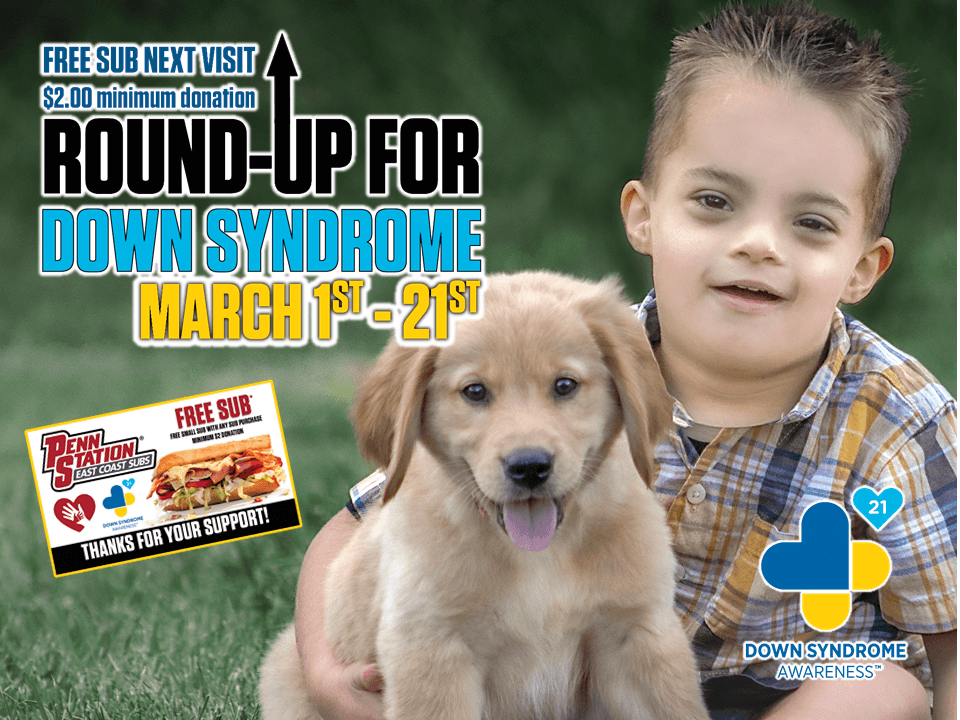 Round Up for Down Syndrome at Penn Station
The first three weeks of March (March 1 - 21), all Penn Station locations host a Round Up for Down Syndrome campaign to support their local Down syndrome organization. Funds raised in the Miami Valley/Dayton area will support the Miami Valley Down Syndrome Association!
Customers can round up their purchase to donate to the MVDSA! Customers can round up any amount- to the next dollar or a specific dollar amount. With a $2 or greater donation, customers will receive a BOGO small sub coupon for their next visit.
How to participate:
Eat at Penn Station - Grab a bite to eat from your local Penn Station and round up your purchase between March 1-21. Click HERE  to order online (BOGO coupon only available in store). Please share our gratitude with the staff and tell them how their support impacts people with Down syndrome.
Get the Word Out - Share Facebook posts from the MVDSA and Penn Station on Facebook encouraging others to participate in the campaign!
We hope that you will join us and participate in the Round Up for Down Syndrome campaign as we lead up to World Down Syndrome Day (3/21)! Join us in making positive difference in the lives of people with Down syndrome all across the country.